A primarily residential community in an enviable pastoral setting, West Bloomfield, Michigan is a quiet retreat from its neighboring metropolises of Detroit, Lansing, and Ann Arbor. With over 560 acres of parklands, the township is home to the West Bloomfield Woods Nature Preserve, the first urban wildlife sanctuary in the greater Detroit area.
Wildlife and daring adventurers alike appreciate West Bloomfield's network of natural lakes, which bejewel the township with their sparkling waters. West Bloomfield Trail, built on converted railroad tracks from the 1880s, now caters to bikers and hikers alike, honoring the town's history while enhancing the leisure time of its present inhabitants.
Although the township offers modern amenities, it also proudly embraces its history. The Jewish Historical Society of Michigan makes its home in West Bloomfield, enriching the town with its intriguing historical collections and docent-led lectures. The Orchard Lake Museum at the Greater West Bloomfield Historical Society also keeps a vital past alive with experiences such as its Apple Island Tours.
West Bloomfield can be as proud of its recent history as its 19th century past. Medal-winning Olympians Meryl Davis and Kyle Mack both hail from West Bloomfield. Brandon T. Jackson, who played Grover Underwood in the Percy Jackson film series and Alpa Chino in Tropic Thunder, was a graduate of West Bloomfield High School. And jazz singer Jesse Palter was raised in West Bloomfield, where she started piano lessons at age seven and learned to play the oboe and trumpet—as well as write music—while at school.
Signs and Banners to Point the Way to Your West Bloomfield Store
Rich in history yet modern, rural and residential, West Bloomfield boasts a booming commercial district on Orchard Lake Road. Merchants and business owners at Crosswinds Mall, Orchard Mall Shopping Center, Hunters Square/Tally Hall, and Orchard-14 Shopping Center can rely on the expertise and professional service of Perfect Impressions Graphic Solutions for all their printed marketing material and signage needs.
In business since 1989 and based in nearby Farmington Hills, Perfect Impressions is West Bloomfield's premier sign company. We create the vinyl and mesh banners, 3D signage, pole banners, and point-of-purchase (POP) displays that draw customers in and lead them to your registers.
Our talented designers will work with you to produce signs as unique as your business. Our signs are available in many materials, such as warm wood or cool metal…or sleek, clear acrylic backgrounds that show off the texture of your walls while standing out visually.
Trade Show Displays You Wouldn't Trade for the World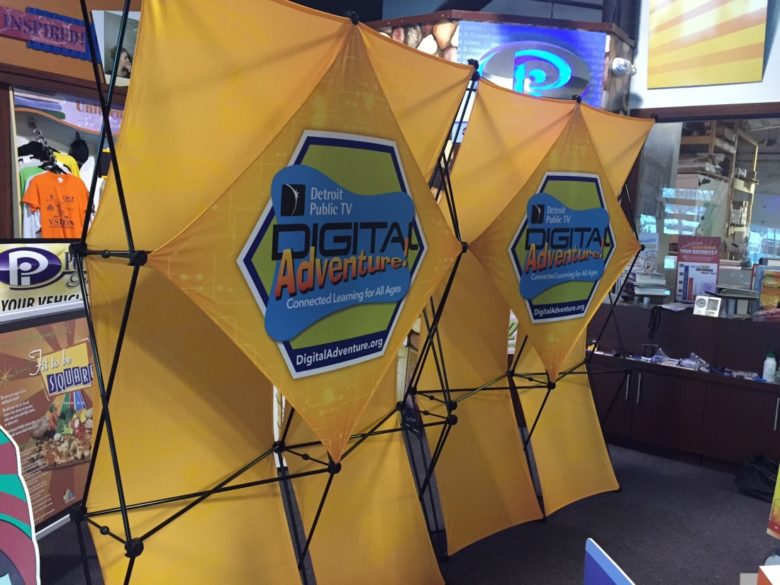 When it's time to hawk you wares at a West Bloomfield trade show, like the yearly Designer Show at the Bella Bridal Gallery, Perfect Impressions has all the eye-catching trade show display components you need to stand out in the crowd. Hanging displays and pop-up displays will attract visitors to your trade show booth. Modular frames make it quick and easy to set up your trade show booth and break it down after the show.
And for a truly unforgettable impression, order an AdMesh banner from Perfect Impressions to completely wrap your trade show display space. These mesh banners, with their protective vinyl coating, are perfect for outdoor advertising as well. The mesh surface means the banners won't blow away in high winds—but they will blow your customers away with their spectacular appearance!
Make a Great Impression!
Get the best deal when you purchase a custom graphic solutions package, get your quote now. Call 800.974.4699 for the best package deals on custom graphic solutions.