Signs for Curbside Services
Social distancing has changed how we do business. From keeping a healthy distance apart, to moving businesses into the virtual space, businesses in Michigan have accommodated social distancing mandates with creativity. Curbside signs such as pick-up and delivery signs have been a powerful tool in generating a healthy flow of business while keeping customers safe.
At Perfect Impressions, we assist businesses in Canton, Royal Oak, Novi, MI, and the surrounding areas to create attractive and affordable curbside signs that promote their business and the concept of social distancing. From graphic design to full-service production, we work with you every step of the way to create beautiful graphics that win over clients and promote a safe environment.
Curbside Signs
Restaurants and other commercial businesses have been hit by the recent Coronavirus pandemic that calls for the social distancing of at least 6-feet apart for customers and employees. This poses a complicated problem for businesses that rely on face to face transactions. Curbside signage acts as a powerful tool in showing the public that your business is there to meet their needs with a range of services to accommodate these uncertain times. From pickup services, delivery, operating hours, and more, your curbside sign shows the public that your business is there to help clients through these difficult times.
Our team of skilled designers has years of experience in lending their expertise when it comes to creating attractive curbside signage. With a broad range of styles and materials to choose from, we help you design and install unique signs that bring brand awareness and help market your services in these uncharted times. At Perfect Impressions, we help you create curbside signs that fit every terrain and location, including:
Parking lots
Grassy areas
Rooftops
Sidewalks
Windows
Flowerbeds
Signs for Businesses Offering Curbside Pickup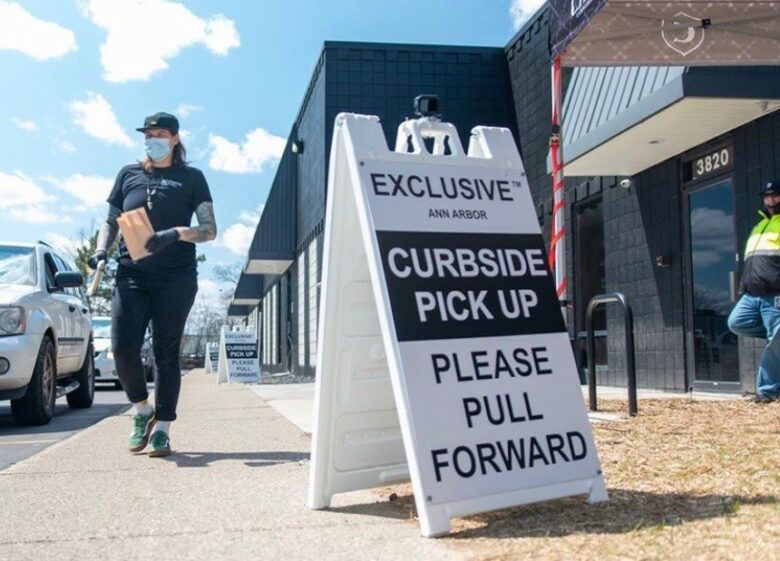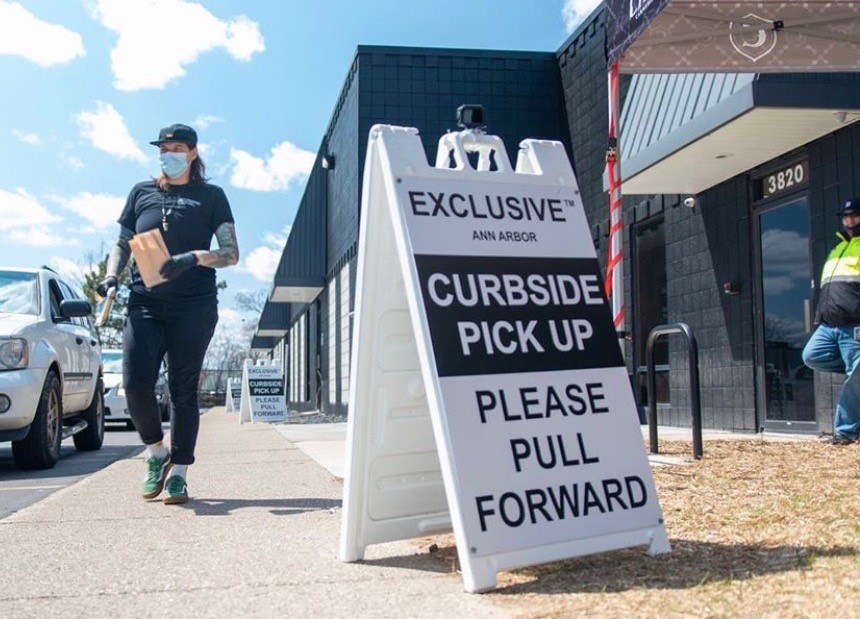 Curbside pickup has been a game-changer for businesses looking to sell their products during the COVID-19 pandemic. By abiding by social distancing regulations, businesses in Northville, Novi, Plymouth MI, and surrounding areas are utilizing no contact curbside pickup to help their communities maneuver the pandemic. Curbside pickup signs have been a great way to increase efficiency during these times and make business transactions efficient and worry-free.
Our team of skilled professionals helps you create and install attractive curbside signage that brings awareness to pickup locations for food, goods, and other essential products. With over 30 years of experience in the business, our clients trust us to help promote their brand and accommodate recent changes during the Coronavirus pandemic. Perfect Impressions is ready to help you with all of your social distancing materials such as floor decals, popup tents, and more. View all our products to learn more.