If you're a business-to-business company in Detroit, Perfect Impressions Graphic Solutions has the trade show displays, banners, pop-up displays, and three-dimensional column signs to set you apart from the crowd at every trade show.
Trade Show Banners
With vivid colors and sleek lettering, custom trade show banners from Perfect Impressions boldly advertise the benefits offered by your company's products or services. Versatile trade show banners can be mounted on a truss display, freestanding on a pole, or unfurled from a retractable banner stand. Trade show banners from Perfect Impressions are your company's canvas at expos and multivendor sales events.
Whether you're showing off your styling tools at the Detroit Natural Hair Expo, powering up your dental engine for the annual "Dentistry in the D" session at Cobo Center, or revving up for the Automotive Parts Suppliers Conference at the Westin Book Cadillac Detroit, Perfect Impressions will produce the poly banners, AdMesh banners, small banners, and pole banners to bring future customers to your booth.
Trade Show Displays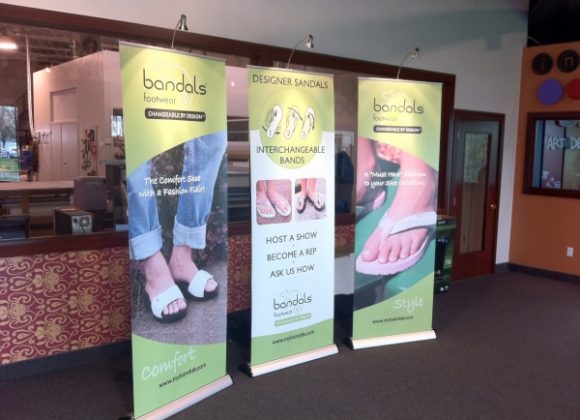 Besides banners, trade show displays can also incorporate fabric displays and pop-up displays. Sturdy, lightweight aluminum truss systems can hold shelving or mounts for your products, in addition to hanging banners. Perfect Impressions can even add cylindrical hanging banners to your trade show displays, for larger-than-life representations of your new pop flavor, artisan microbrew, eau de cologne, or volumizing dry shampoo. Whether you're a beverage manufacturer, cosmetics co-packer, or auto parts manufacturer, Perfect Impressions has the trade show displays and banners you need to make your company the star of every trade show.
Just a half-hour's drive from Detroit in nearby Farmington Hills, Perfect Impressions Graphic Solutions is pleased to count businesses in the Big D among its many satisfied customers. Perhaps best known for its pioneering auto manufacturers, Detroit now has a thriving casino industry. The Greektown Casino, MGM Grand Casino Detroit, Belle Isle Casino, and rainbow-striped MotorCity Casino Hotel draw thousands of thrill-seekers to their slot machines, roulette wheels, and poker tables.
The brilliant sparkle of the RenCen at Detroit International Riverfront provides luxury lodgings, sumptuous cuisine, and upscale shopping for visitors to Belle Isle Park, Hart Plaza, and Campus Martius Park. The Victorian-style Milliken Lighthouse stands in Detroit's harbor like an alabaster beacon from a simpler time, against the backdrop of the MacArthur Bridge's graceful arches.
From serene parklands and waterfront vistas to the excitement of concerts and casinos, visitors to Detroit's harbor certainly have their pick of entertainment venues and engaging activities. In the same way, trade show attendees can choose from hundreds of products or services to fulfill their business's needs. Networking and sales opportunities abound at trade shows…but if you don't get noticed, you won't make the deals. To prepare for success at your next trade show in Detroit, call Perfect Impressions today at 800.974.4699.