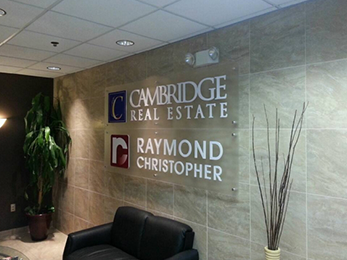 Sign Installation
When researching for a sign company in Detroit, you're going to see a lot of different companies that say they are the best at sign installation. At Perfect Impressions, we are prepared to give you the reasons that we are confident to be your sign installation company:
We're local. Located right in Detroit, we're ready to help our community to put its best foot forward in making a great impression.
We have the experience that goes into making the right sign for you. We've been making signs and graphics since 1989.
Our team is second to none. We're a family-owned business and stand behind each one of our team members.
We are a turn-key sign company. We are with you from start to finish from design to installation. No more signs that start with one company and then you hear "we don't do that" for the next step. We do it all!
We work within the parameters you're given. We know you have certain regulations for your Detroit sign installation whether due from corporate style guides or your landlord, we'll work you to get your sign done properly following all guidelines.
Detroit Sign Company
Your sign installation represents a significant investment. Make sure you are getting a quality sign that is built to last. Strong, rich colors. Weather-resistant fabrication. Professionally installed electrical work. Very few things are as disappointing as a sign that starts to fade or letters that start burning out. And, if you have gotten your sign installation from another company, we're here to help with any sign repair or additional sign installation you need. We know that a sign company may have made your sign but doesn't offer sign installation or repair. This is especially true if your sign is a corporate sign sent to you or made by a specialty company. Call us to get a quote on any type of sign installation you need for your Detroit location.
Sign Company in Detroit, MI
Detroit certainly has had its ups and down. From a city that was once a manufacturing hub to a city that experienced great waves of population decline starting in the 1980's and continuing to today. The height of Detroit population was in 1950's with 1.8 million. The 2020 census is expected to show a population of 800,000.
Now the City of Detroit is starting to get assistance in its rebuilding effort. One part of the assistance is coming from JPMorgan Chase that announced in 2014 the company was going to inject $100 million into helping the city. The funds are being used to boost the economy in terms of development funding for employment increases. JPMorgan announces an additional $50 million in 2017 for further economic development and neighborhood stabilization.