Signs for Troy, MI, Businesses
When you are prepping for a new business in Troy, MI, one of the most important things to consider are the signs. Proper business signs tell customers who you are and how you can help them. Creating an eye-catching sign is one way to get people to come into your business. Whether you need LED, metal, channel letter signs, or cast plaques for your retail storefront or general marketing signs, the team at Perfect Impressions is here to assist. Even storefront signs help develop your company's brand. Creating eye-catching signs, to help promote your business, is what we do best. Our team offers creativity, making every sign produced, a work of art.
Signs in Troy, MI, That Fit Your Needs and Budget
We understand that businesses have budgets, and our team will work with you, to make sure we have created signs that, not only tell customers what you are about but also fit the look and feel of your business, within your price range. Since 1989, our family-owned and operated company has been helping new and well-established businesses, with the creation of signs to help with self-promotion. Whether your company is large or small, we can work within your budget to create the signs to help your business to stand out from the rest.
Creating Custom Signage for Troy Businesses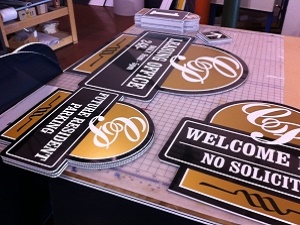 Our staff at Perfect Impressions will work with you to determine what type of signs you will need for your business. If you aren't sure, our team will listen to the theme of your business and offer solutions to create a sign that will stand out from the rest. Our goal is to bring your brand identity to life, through the creation of your business sign. Once the sign is created, we can provide our professional crew to safely install it. We also provide service and maintenance to keep your sign looking new. Contact us now for more information on signs, for your business in Troy, MI.
Troy, Michigan
Considered one of the best places to live, Troy, MI has many young professionals moving into town. There are many weekend activities to keep families busy, including the Troy Museum & Historic Village. This museum takes you back to what it was like around 1880. It features arts and crafts of the time and storytellers talk about what it was like to live in that time.