8 ways to make the most out of your trade show displays
Making the most out of your trade show displays requires careful planning and execution. Perfect Impressions provides trade show displays in and around Detroit, Novi, Birmingham, MI, Ann Arbor, Plymouth, MI, Farmington Hills.
Here are five ways to maximize the impact of your trade show displays: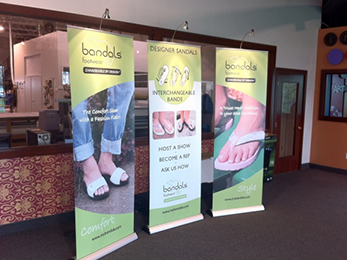 Strategic Booth Placement:
Choose a prime location for your booth within the trade show venue. High-traffic areas, near entrances, or close to complementary businesses can increase your visibility and foot traffic.
Eye-Catching Visuals and Design:
Invest in professional booth design and graphics. Your display should be visually appealing, conveying your brand identity and message clearly. Use high-quality images and bold, legible text to draw attendees in.
Incorporate interactive elements into your display to engage attendees. This could include touchscreens, product demos, virtual reality experiences, or games related to your industry. Interactive displays can attract and hold the attention of visitors.
Train your booth staff to be approachable, knowledgeable, and proactive. They should be able to answer questions, give demonstrations, and engage attendees in meaningful conversations. Friendly and well-informed staff can make a significant difference in attracting potential customers.
Collect and Nurture Leads:
Use lead capture technology to collect contact information from interested attendees. This could be done through QR codes, mobile apps, or traditional methods like business cards. After the event, follow up promptly with personalized communication to nurture these leads and convert them into customers.
Promotions and Giveaways:
Offer incentives such as discounts, free samples, or exclusive promotions to attendees who visit your booth. Promotional items with your logo can also help keep your brand top of mind after the event.
Use social media before, during, and after the trade show to promote your participation. Create event-specific hashtags, share sneak peeks of your booth, and encourage attendees to share their experiences online. This can extend your reach beyond the physical event.
After the trade show, assess the success of your display. Analyze metrics such as lead generation, sales conversions, and return on investment. Use this data to refine your approach for future trade shows.
By implementing these strategies, you can make the most out of your trade show displays and increase your chances of achieving your marketing and sales goals at these events.
Please call us without hesitation.